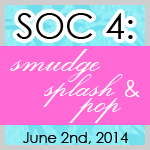 It's coming!
On Addie's birthday, no less!
Addie and are ready to get our artist selves going!
To celebrate I will even spruce up my blog.
A header, maybe I'll even get crazy and add a background!
And I'm gonna reshare Twinkle, Twinkle's color inspiration video 'cuz it is just so darn cool.
Don't ya just want to jump in it and make some colorful footprints?!