Unannounced Blog Break:
My Craft/Sewing room has been taking up my attention and time lately.
OMG! What a mess!
The dehoard/organize/clean had to happen: I have a huge room, but no space left to work, and great supplies, but too much crap to create.
I opened up a drawer of WIPs and found this--
I don't even like candy bars, so whyyyyyy are they there?!
I'm almost done and then I'll be back :)

Cool New Thing Happening in Blogland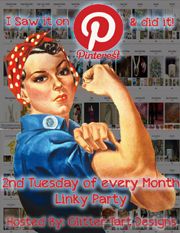 Kickoff is February 12th.
Click on the button for more info.