First...SCORE!
8 teeny glitter filled glass bottles for $1!
Dollar Store in the beauty section--sold as nail art.
The bottles are 7/8" tall with a little plastic cork.
I've seen these used for charm bracelets, necklaces, ornaments and miniature scenes.
Me...
MINI HALLOWEEN APOTHECARY
!!!
Check out Artfully Musing's Tutorial/workshop!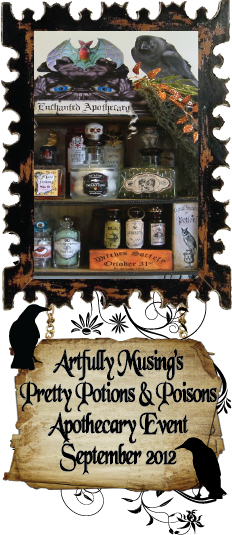 Second...Oatmeal Muffins
They ARE quick.
Recipe makes 12
They ARE healthy.
Fat & sugar low/Fiber high.
They ARE delicious in a homey way--great for a cold day!
They aren't sweet despite the cinnamon topping.
These are a traditional muffin, NOT a cupcake disguised as healthy food.
Kaely approved (ignore the Cruella DeVille make-up, PLEASE!).
This muffin recipe is definitely headed for the
KEEPER & make again recipe book!