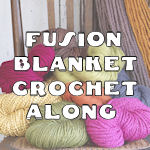 On to the blanket stitching...
This'll take awhile.
I'm using an ombre pink crochet yarn/thread that I found at Daiso. It's thick enough that I don't need to double up, making the blanket stitching a bit easier.

Helpful LMS Fusion Blanket CAL Hint:
I found that 78" length of crochet yarn/thread is perfect for a 4 1/2" square
*********************************
Between squares Addie and I will be spray painting our
tin can lanterns
!
We pounded our little holes in last night and left them on the counter to dry.