As you may already know, Addie is my crafting partner (like it or not :)).
My craftroom is her craftroom, my supplies are her supplies.
Challenges and e-classes I take, she takes.
So I present to you...
ADDIE'S MINT CHOCOLATE CHIP
It's a little hard to see on this canvas but she discovered that if you draw with an air erase marker -the kind used for embroidery, etc. that your mom has told you not to mess around with because they're expensive, but you do anyway--and then paint with pastels over it that the air erase ink will leave a lighter colored impression underneath.
She assures me that her next creation for Summer of Colors will feature her new technique more prominently.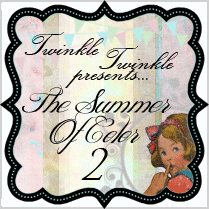 I do love an evening spent quietly at "our" art table creating together and I am always amazed to see what she comes up with.
Next flavor up...
"A blend of strawberry and lemon flavored sherbets that will make your lips smack with delight."
- Baskin Robbins