I've got the camera. I've charged the camera. I've taken pictures to share with everyone. Now where is the cord to download the pictures?! I have a feeling it's somewhere in my daughter's room, but I'm not going to navigate that terrain without some assistance from the guilty party. I hope to be downloading soon. Trying to be positive.
Meanwhile...Silhouettes are being given away all over the place.

They're Mac compatible now!
There's also an awesome Halloween Giveaway at Craft-O-Maniac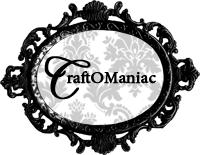 She made some divine Halloween decor~Sparkly and spooky at the same time!